About company
BPA LLC has been growing and improving since 2002: just then expansion of sectors, where BPA LLC was promoted, lead to the growth of the Company, acquisition of invaluable experience, increase of turnover of the Company.
2005 - a direction on design and introduction of operating DC low-voltage systems, low-voltage equipment for the objects of moderate and large capacity in power generation, in the field of communication and telecommunication, oil and gas and other sectors, was established in the Company.
2006 - the Company has concluded primary partner agreements with the largest western companies – manufacturers of equipment: Rockwell Automation, USA (trademarks - Allen-Bradley, Rockwell Software, Reliance Electric) and Gutor Electronic, Switzerland (supplier of industrial uninterrupted power supply systems and rectifier charges).
2007 - the Company became a partner of I&S department of Siemens. BPA LLC performs full complex of works on introduction of automation systems on the basis of Siemens means of industrial automation; control, ESD and fire and gas detection systems implementation project of the Yareyuyskoe gas deposit for Naryanmarneftegaz LLC can be set out as one of the largest project.
2008 - projects with application of Invensys Systems equipment (trademarks - Foxboro, Triconex) were performed. In addition to the scope of the services and products, proposed to the customers, a partner agreement with the Moscow representative office of Invensys Systems was concluded.
2009 - the Company becomes a certified member of the following self-regulation organizations (SRO):
Non-commercial partnership "Interregional association of designers StroyProektBesopasnost" and Non-commercial partnership "International association of engineering and construction enterprises".
2011 - the Company concluded primary partner agreement with Schneider Electric that produces systems of guarantee power supply – SDC rectifier charges and Gutor invertors. The Company implemented a large project on the basis of Schneider Electric equipment.
2012 - the Company registered its own electrical testing laboratory equipped with a full set of portable appliances.
Opening of the own assembling production of cabinets, specialized in development, production and batching of electric equipment and automation boards.
2013 - the Company has successfully passed certification for compliance with requirements of GOST ISO 9001-2011; GOST ISO 14001-2007 and OHSAS 18001.
2014 - the Company became a member of the Control System Integrators Association CSIA.
For today, BPA LLC occupies strong positions at the market of production and introduction of automated control systems, providing a full set of services on automation and power supply of industrial engineering processes, operating control, and administrative and economic activity.
BPA LLC is represented by the Central office in Moscow; own assembling production in the Moscow region, eight separate regional subdivisions in the Russian Federation and representative offices in CIS countries - Republics of Belarus, Kazakhstan and Azerbaijan - ensure individual and prompt response to any changes for the maximum efficiency.
Quality policy and quality management system
Main quality measure of BPA LLC operation is satisfaction of our clients.
Mission:
To establish smart and reliable systems ensuring safe operation of industrial enterprises, economic development of the country, the Company and well-being of its employees. To increase satisfaction of our clients on the basis of Quality Management System.
Vision:
Application of the ISO 9001 method and other methods of business processes improvement, aimed at increase of the level of client satisfaction and the quality of services and products, at all levels of our Company assists in achievement of successful and stable economic results.
Quality advantages:
the Company management system operates in accordance with ISO 9001 system: the basis is a process approach to management on the basis of objective measurements
at BPA LLC, a system of scheduling and performance of projects under PMI methodology has been introduced
analysis and understanding of needs and expectations of our clients is based on regular investigations of their satisfaction
system of certification and development of competence of production and engineering personnel has been introduced
long-term partnership with the largest western suppliers of electric equipment in Russia
up-to-date assembling production equipped with the newest engineering equipment and tools, in compliance with all requirements of Schneider Electric
up-to-date and fully equipped electric laboratory for qualified conduction of acceptance and passing tests
production and quality control processes are in full compliance with the requirements of strategic suppliers, which is confirmed by external audits of the Company
all products produced are in compliance with the standard requirements of primary European electric engineering standards and safety requirements under GOST.
Customers and reference list
History
Under construction
Vacancy Career
One of the competitive advantages of BPA LLC is that it is led to success by the team of professional and like-minded persons – the main intellectual force of the organization.
Our Company is developing dynamically and has rightly achieved the global success and enhancement of the geography of its business, and it masters expertise of its team!
This growth is impossible without qualified and ambitious persons, fond of their work with creative approach to solution of tasks.
If you want to participate in multiple and unusual projects in the team of the masters of their trade, if you want to become an employee of the fast-growing and friendly company, we invite you to the following vacant positions:
Design engineer of low-voltage package modules
Servicing engineer of electric equipment of low-voltage package modules, UPS, AB, frequency converters
System administrator
Operating DC voltage system and UPS designer
You can call us and find more about the open vacancies of the Company at: +7(495) 645-79-99 or send us your CV to е-mail: info@bpa.ru
News Events
A partnership agreement has been signed with SETPOINT (METRIX)
BPA has signed a partnership agreement with the Setpoint Vibration Company, which specializes in the production of modern vibration monitoring, vibration diagnostics and vibration protection systems.

The main advantages of the system offered by SETPOINT:

1. Developed in full compliance with the API 670 standard.
2. It is integrated with OSIsoft's PI System real-time database.
3. Has MTBF for more than 29 years.
4. The possibility of using vibration sensors of a large number of manufacturers.
5. Allows you to receive information from vibration sensors in parallel with the vibration protection system Bently Nevada.

This agreement will contribute to the expansion of competencies and activities of BPA, and will also allow the implementation of projects for the integrated automation of technological processes.
For the first time in Russia, BPA will supply the Foxboro LevelWave LR01 level radars
BPA produces supplys for the needs of OAO "Saratov Refinery" of Foxboro level radars.
The company offers deliveries of new equipment: advanced radar level gauges manufactured by Invensys Foxboro Eckardt GmbH.
The LevelWave LR01 and LG01 level sensors from Foxboro are designed for continuous, non-contact level measurement and have a wide range of applications in various industries.

The partnership agreement was signed between BPA and LABWARE
A cooperation agreement was signed between BPA and LABWARE to promote, sell and implement LabWare LIMS laboratory information system. Within the framework of cooperation, the company's employees were trained.
BPA is endowed with the status of an approved partner for the promotion and implementation of LIMS in the following industries: oil refining, petrochemical and gas processing.

The choice of the Partner in the field of laboratory information management system (LIMS) is determined by the availability of a LabWare company platform that meets the high requirements for the quality of technical solutions for integration with other IT solutions, LabWare LIMS™ laboratory automation software (Laboratory Information Management System) and LabWare ELN ™ is a fully integrated application (Electronic Laboratory Notebook), as well as the availability of highly qualified personnel in the Russian office and a well-established implementation system at various enterprises.
LabWare LIMS is a full-featured, configurable Laboratory Information Management Enterprise system. The LIMS architecture combines the power and security of the production server, and the ease of use of the system, provided by graphical user interfaces.

The LabWare LIMS platform is open and flexible, the laboratory system easily interfaces with related IT solutions in the enterprise, such as ERP, MES, process control systems, document management systems.

Integration with the systems of the level of ERP

LIMS LabWare integrates with various top-level systems, including SAP R / 3 (certified QM-IDI interface), BPCS, BAAN, Movex, JD Edwards, Axapta, Galaxy, etc.

Integration with MES level systems

LIMS LabWare has certified interfaces to systems of such manufacturers as OSI Software (PI), GE Fanuc (PROFICY MES), AspenTech (Infoplus21), Emerson, Honeywell, Yokogawa (Exaquantum), etc. Also LIMS configures data in a convenient format for reading by systems Class RPMS / PIMS (Process Management Information Systems).

Integration with the process control system

LIMS LabWare provides mechanisms and tools for integration with the technological level systems - ASUTP. Firstly, it is the automated transfer of laboratory analysis data to the operator's computers of the automated process control system for the most rapid and accurate response to changes in modes and corresponding parameters of technological processes. Secondly, it is the automated receipt in LIMS of technological data (temperature, pressure, etc.) from the process control system or MES, necessary for the correct interpretation of the results of laboratory tests, further analysis of the operation of the process facility, the use of data in simulation packages and systems for improved process control SUTP).
Additional features are provided by LabWare LabStation, which is tightly integrated with the LIMS package, which is designed to work with equipment with a complex external exchange interface.

Integration with workflow systems

LIMS supports MAPI and VIM messaging systems, including Microsoft Exchange and Lotus Notes. This allows you to exchange electronic messages and hold conferences within the LIMS.

Standards Requirements

LabWare LIMS allows organizing all production processes of laboratories in accordance with the requirements of standards: GOST R ISO \ IEC 17025-2009, GOST R ISO 5725-2002, MI 2335-2003, MI 2336-2002, RMG 76-2004, RMG 61-2003.
LabWare LIMS fully meets the requirements of GOST 53798-2010 "Standard Guide for Laboratory Information Management Systems (LIMS)" and has all the functionality to make your laboratory productive and efficient.

Automation of the processes in which the results of research are planned, executed, recorded, monitored, stored and submitted in the form of a report, allows us to bring a new level of quality control, as well as the ability to make business decisions, to a new level.

LabWare LIMS is designed so that the user can fully configure the system at his enterprise, ensuring that it is adapted to the specific needs of production.

LabWare LIMS has a scalable architecture with the ability to install, both in decentralized, departmental enterprises, and in centralized global enterprises. This architecture includes simultaneously different requirements, multilingual support and a high level of security in different time zones and applications.
LabWare LIMS clients can work on any modern MS Windows application. The component of the web server can be any J2EE server, including open source.
The database server can be installed on any of the following Windows, UNIX or Linux operating systems, and use any of the relational databases from Oracle to SQL.

LabWare LIMS satisfies all GxP regulations, providing a complete sample life cycle, user certification, verification.
Reconstruction of nitrogenous oxygen station as a part of production modernization at "Omskiy caoutchouc" plant.
New air separation unit construction will increase the stability of nitrogen supply to the shops of the plant.
Construction was carried out by contracting organizations and BPA Company.
There were four air separation units AK-1,5 with the capacity of 1500 cubic meters of nitrogen gas per hour. The new air separation unit A-1.5 has the same capacity. The difference is that it generates only nitrogen. There was the lack of this gas at the production. The unit has some advantages: it is easier to operate, more efficient and energy-saving. The main reason of the new air separation unit construction was the necessity of big volumes of nitrogen. It was proved by the tests that the air separation unit allows to get nitrogen gas with volume ratio of not more than 0.01%
The supplier of the air separation unit is a big Russian company which produces air separating equipment and technologies – JSC "Cryogenmash", Balashiha city, Moscow region.
The new air separation unit will be brought into service during the first quarter of the year 2015.
The article about the project is published in "Element 22" magazine, page 8.
http://www.titan-omsk.ru/raskrytie_informatsii/ok/2015_01_element_22.pdf
http://www.titan-omsk.ru/press_center/Newsletter/
Happy Defender of the Fatherland Day
Our dear men… colleagues, partners, sweet ones! Happy Defender of the Fatherland Day! The most important in our life is peace and stability. For us you are always the symbols of courage, power and honor. We would like to wish you to be healthy, happy, lucky and successful!
YOKOGAWA distributors and system integrators meeting
BPA staff took part at YOKOGAWA distributors and system integrators meeting which took place from the 4th till the 5th of February 2015 at the Yahonty hotel near Moscow. At the meeting the partners of BPA were awarded in nomination "The best system integrator 2014" and the new YOKOGAWA products and solutions were presented. Also the matters of cooperation with the customers and partners were discussed as well as the situation at the market and mutual possibilities at the field.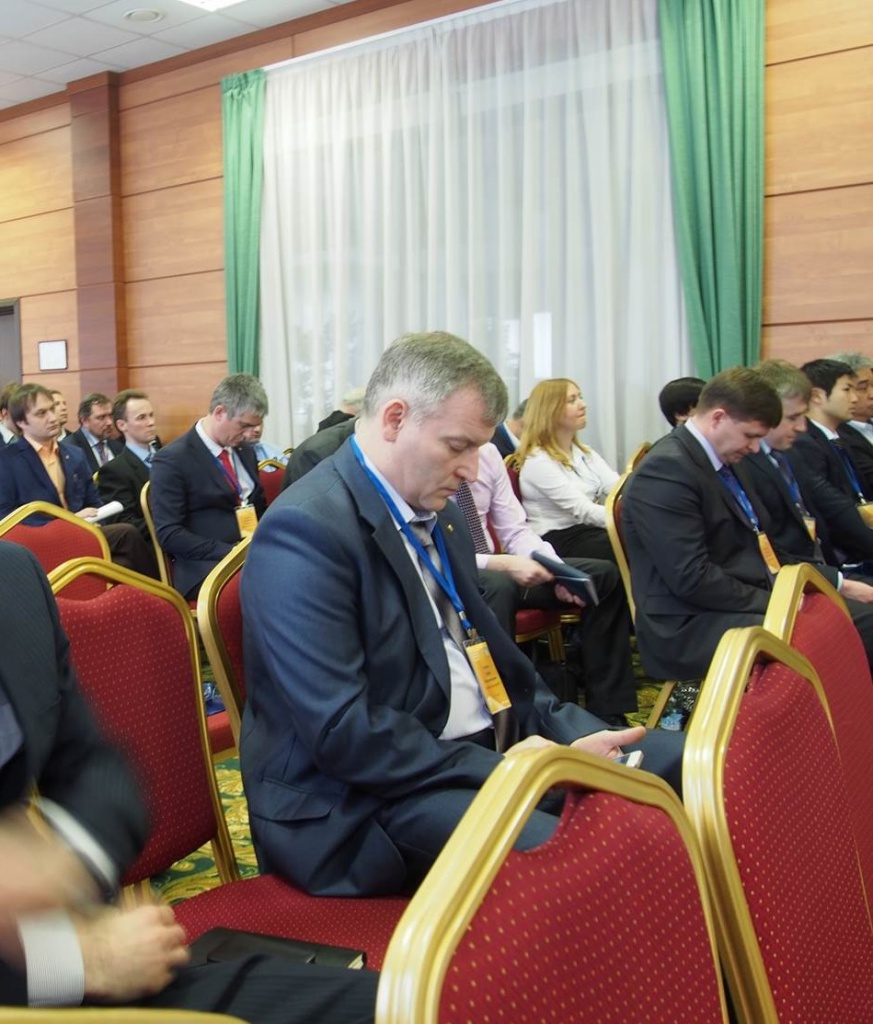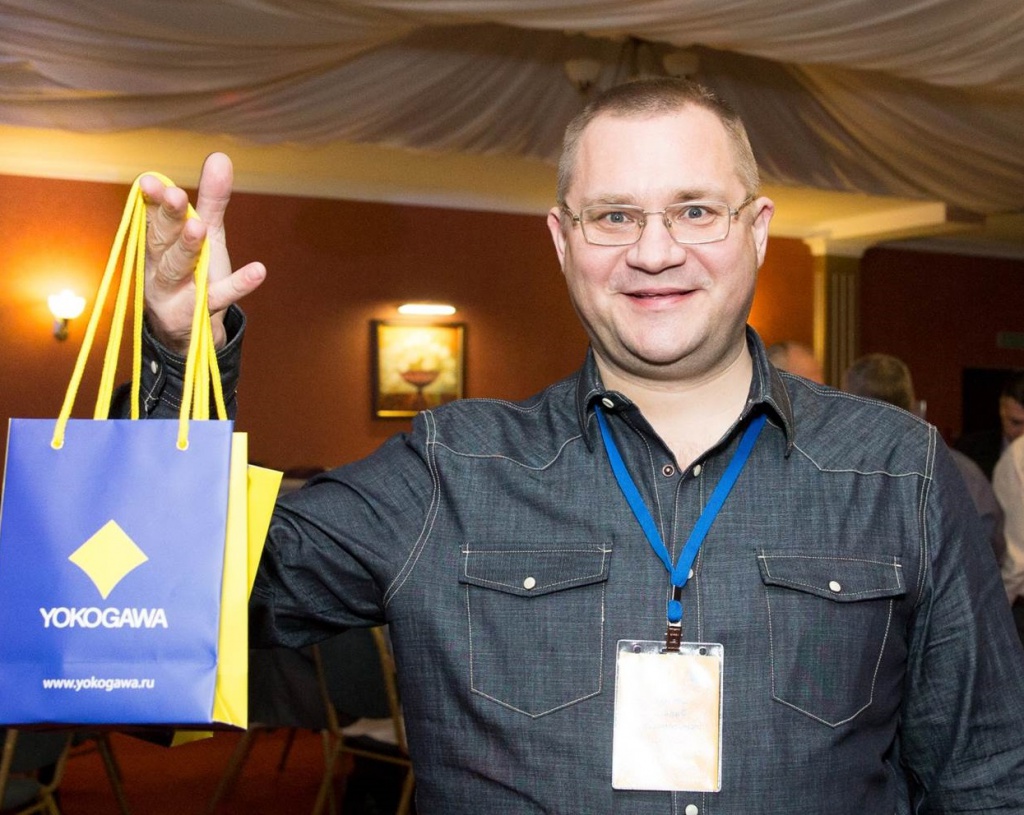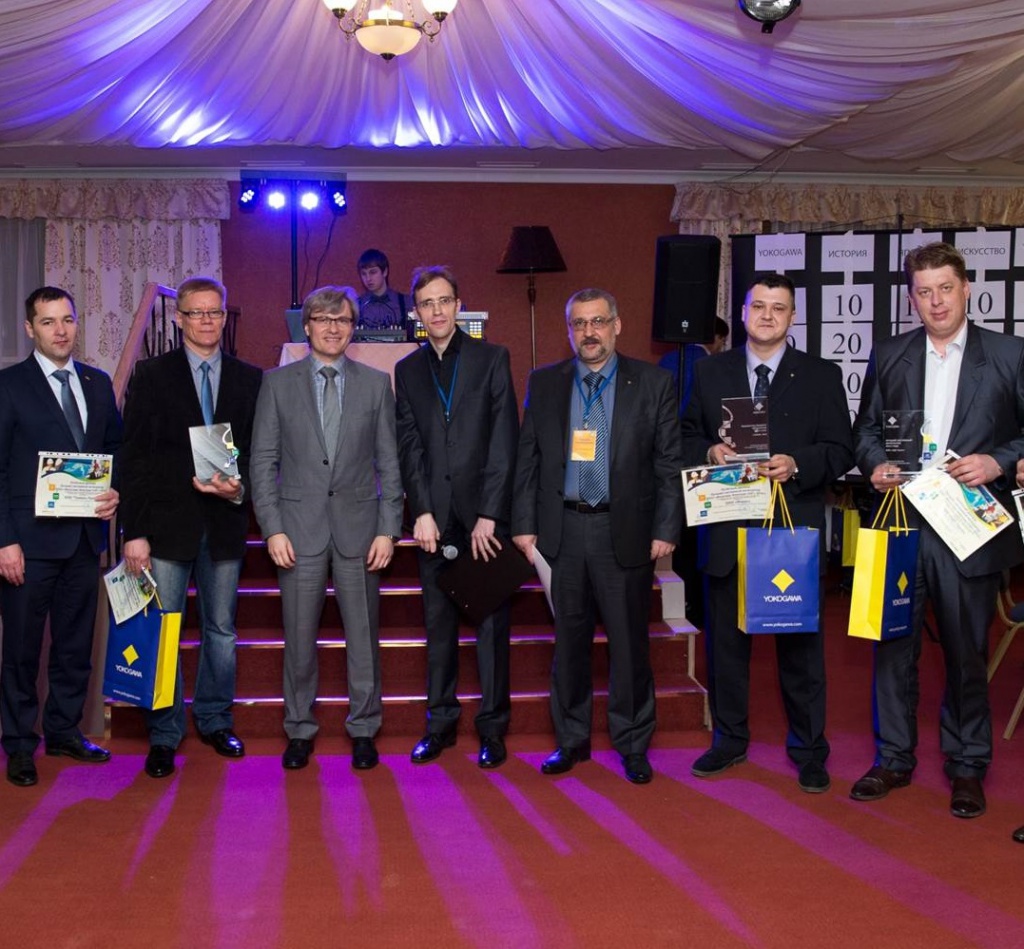 Press center
Under construction